Sticky is pleased to announce the introduction of streaming adult video in conjunction with the launch of our new website. Sticky has always been dedicated to providing the best in adult entertainment & now our website will help provide our customers with high quality video via download...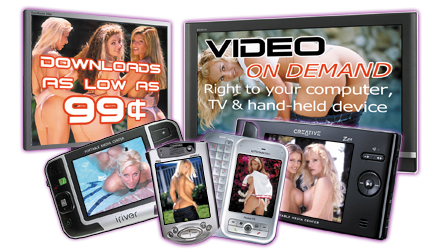 320 x 240 suitable for Mobile Devices
Small file size - Hi Quality Video
Windows Media Video for mobile device
640 x 480 suitable for PC and TV
Stereo sound - Hi Quality Video
Windows Media video for Windows Media Player
100% Money Back Guarantee
Register Now!
Are you still paying by the minute to watch adult videos?
Stop paying for video entertainment that you can't keep. OWN the videos you download from Sticky forever. Your licenses are maintained by us, managed by us & if necessary, restored by us - forever.
A Sticky Video License, or Digital Rights License is a small file kept on your computer that identifies YOUR COMPUTER as a licensee of a piece of electronic media. This same file also identifies Sticky as the licensor.
No longer do you need to buy an entire video just to have that one killer scene with that one hot performer. Now you can download JUST THE SCENES YOU WANT and save time and money. Perhaps you are only interested in scenes containing one adult star, or you are only interested in scenes containing one kind of action; now you can assemble a variety of scenes from different features in your playlists, mix them together any way you want and build your own compilation.
Try BEFORE you buy. Every video & video scene we offer comes with a 1 Day Trial download option. This means that for very little money, you can download a video and watch it repeatedly for 1 day before the license expires. If you like it, maybe you want to own it.
Sticky offers the option for you to download a licensed video that plays for only 1 day. This cost effective option allows you to browse our catalog of full length videos and video scenes and watch movies you may not really be interested in owning, but look enticing. Let's face it, not all adult movies are keepers. Sticky believes you should not get stuck with a video download that just isn't your cup of tea or appeared to be better than it really was.
Sticky has chosen the Rosetta Media Manager™ as the software of choice to manage your Sticky video downloads.

RMM is easy to download, easy to use & easy to enjoy.

DVS327

Starring: Kaylee Sanchez, Jade, Jenny Andrews

If one cock is good, then two are definatley better. Actually a woman could even handle five at a time with a little ingenuity. These West Coast girls are used to the heat and their greedy pussies are always fired up. They want multiple orgasms and multiple cocks. It gets them where they want to go. They'll take you along for the ride.

UPC# 794255-322993

View Trailer
Click here to shop for this & other Sticky releases
DVS324

Starring: Alexia, Sheila, Tatiana, Kristine, Gina

Description: These hot Latina Mamacitas know how to work a cock and how to suck them too. They lock their lips on hot man sausage and don't let up until they've drained them dry. They love it so much they'll take on two cocks at a time and keep both ends busy.

UPC# 794255-322696
View Trailer
Click here to shop for this & other Sticky releases
DVS322
Starring: Denni O, Stephan, Samantha Kay

Description: Denni O and her new young friend Samantha Kay explore each other's bodies for the first time. They fondle each other's massive hanging tits, taking time to weigh them in their hands and take their full measure.

UPC# 794255-322498
View Trailer
Click here to shop for this & other Sticky releases
DVS321

Starring: Denni O, Slut Shelby & Sascha Fox

Description: Denni and her girlfriends trade off, fucking their big black studs. They're having the time of their lives, each getting off dozens of times. When one of the guys sees his buddy tapping a juicy pussy he yells, "I Want One Just Like That", and they trade girls. Denni O and her girls are setting it off and setting out with their trade mark style…big and nasty! Just the way you like it!!!

UPC# 794255-322399

View Trailer
Click here to shop for this & other Sticky releases